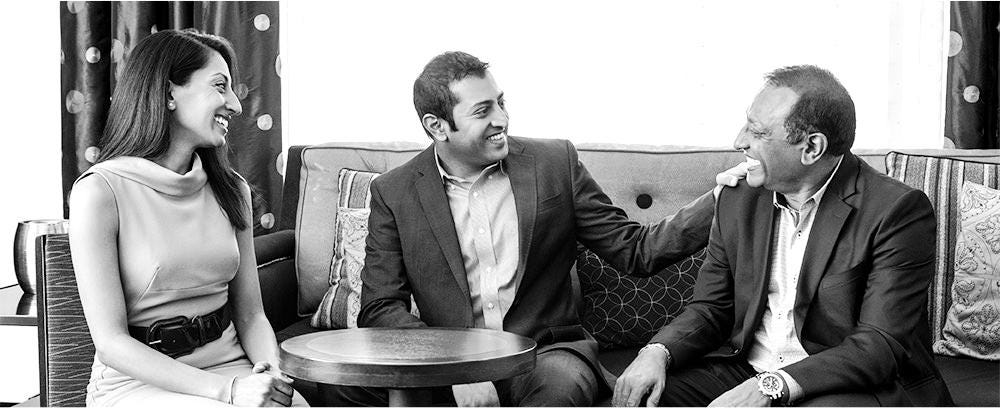 Image Hotel Management's founding roots trace back to 1982, when founder and CEO Neil Patel purchased his first business, an independent motel. Neil quickly learned the key to success in this business was simple and so became our founding principles: provide superb customer service while maintaining a quality product.

Neil created an opportunity to build his first motel in 1985. This began a series of new build development projects in the late 80's and early 90's that established many of the partnerships and ownership groups that own our hotels today. He built and opened his first Holiday Inn Express in 1992, Hampton Inn in 1993, and was one of Hilton's earliest franchisees to the Hilton Garden Inn brand in 1998.

With continued growth and his high expectations on hotel performance, Neil founded Image Hotel Management, Inc. in 1999 with intent to acquire, develop, and successfully manage multi-branded properties throughout the United States and Canada.

Shortly after formation, Image was recognized as an approved management company with Hilton, IHG, Choice, and Wyndham hotels.
Image started out from inception with the goal of being best in class; IHM was presented with the hotel of the year award by Ramada in 1999 and 2000 and has continued to receive awards since then.

Neil has personally led IHM to the development of over 25 new build hotels and is recognized in the industry for his success and expertise, as well as his excellent relationships with employees, partners, banks, franchises, and vendors.

Today, IHM enjoys two generations of senior leadership as Neil Patel is joined by two of his children, Karen and Hiran Patel. Both having grown up in the hotel business, Karen and Hiran officially joined IHM in 2009 and 2010.

Since then, Image has continued its success with the development of our first extended stay hotel in 2014 and has sustained its growth and infrastructure to become a fast growing company with several new build projects currently in our pipeline. IHM has also expanded its footprints past the hotel business with new projects in multi-family housing and commercial and retail real estate.
Our operational philosophy is simple: provide superb customer service while maintaining an excellent product. With 35+ years of doing business in the industry and a culture of continuous improvement, our operations continue to become stronger and more effective with each passing day. Our hotel teams are driven to perform efficiently and effectively. Their success is measured and communicated regularly, and they are rewarded accordingly.
Human Resources & Employee Development
Our associates are provided the proper tools and resources to be able to perform their duties effectively. Our associate development program allows for individuals to receive on-going training and coaching towards self improvement, thereby providing an avenue for growth opportunities within our company. Our Human Resources Department also ensures that our hotels and our company abides by all local, state and federal laws.
Sales & Revenue Management
Our teams work towards revenue maximization opportunities on a daily basis. Our corporate Sales and Marketing team works with each hotel to provide support and guidance to maximize occupancy at a local level. Our revenue management services allow for well-informed pricing decisions with a dedicated individual monitoring demand generation on a daily basis to maximize revenue at each hotel.
Our accounting and finance teams and processes allows our company to strategically plan our capital. Each penny is accounted for with no room for mistakes. Our partners are provided accurate and timely financial reports each month.
Construction & Renovation
We take great pride in each of our hotels, as such we build and renovate our properties at the highest levels of quality. Each of our hotels are solid built with block and plank, or ICF construction. Thus, our hotels are all excellent products and our guests are provided rooms with the highest sound ratings.
Our success is accredited through long lasting relationships and partnerships with other people and businesses, hard work and dedication to hospitality over the past 35+ years, and and vigorous strategic planning. As a family owned and operated company, we are heavily involved with each of our hotels.

As partners in each of our managed hotels, we take great pride in our properties and are driven to maintain and continually improve the condition of each hotel, to provide the highest levels of service to our guests, and to ultimately lead our teams to maximize profitability and satisfaction amongst our partners.

Our biggest credit to our success goes to our people, the driving force of our company. The IHM team is an outstanding group of dedicated professionals in the hospitality industry whom embrace the desire and ability to meet our high standards of performance and expectations. Working together on a daily basis, our teams at our hotels and our corporate office attribute our strength as a company through their support for one another and allow for us to share our successes together as we work to overcome any weaknesses or challenges and threats that may come our way.
Through strategic planning and effective capital management, we have operated multi-branded hotels across 6+ states over the course of multiple economic cycles. Having successfully operated through the economic downtowns of the early 90's, early 2000's and the Great Recession, we understand that economic downturns are inevitable and manage our capital strategically. By doing so, we remain prepared to avoid the harsh realities with which our hotels and their local communities could face.

Our success is defined by our ability and desire to give back. Throughout our company history, Image has maintained its duty to support and give back to the local communities in which we operate, as well as on-going contributions towards various charitable causes. We encourage our teams to seek opportunities for our hotels to support and provide charitable contributions to our local communities. In addition to our local communities, it is our duty to give back to those most in need. Our contributions have and continue to help the people of underdeveloped countries, with funding towards healthcare, education and schools, natural disaster relief funds, and infrastructure improvements such as access to clean water.